Submitted by yelvington on February 24, 2012 - 12:07pm
Today six of the largest Morris Publishing Group newspapers are posting new senior management positions: vice president of audience. Internal and external candidates are welcome to apply.
This is a major step forward in the "audience first" program that Derek May described last week.
And while it has a lot to do with the newsroom, it's not just about the newsroom. It's also about research and marketing, community and social, special publications and -- importantly -- "commercial audiences" across a wide set of products and media.
Jay Rosen has talked about "the people formerly known as the audience." That's a mouthful. We're using the simpler audience term -- but not in the passive sense of last-century mass media, rather in the active sense of audiences throughout human history. The 21st century "audience" is participatory -- like the audience before mass-circulation printing and broadcasting turned us into couch potatoes.
This audience lives somewhere. We call our places communities. That word also is worth a close look. Community has to do with sharing and social cohesion. American newspapers are local. We are responsible to, and for, that social cohesion. If your charge is audience development, you have a community mission.
All of this must sit on a business foundation. The last few years have been very tough ones for American newspapers. Business has been pretty rotten for our ad customers, and generally worse for us. But things are looking up. Some people think this means print will come back. It won't. The future is digital.
But digital is a different world. In the old, mass-circulation print world, where barriers to entry were high, the local newspaper with the expensive printing press was the big dog on the block. Online, we find ourselves outnumbered and outgunned.
Forget all the newspaper industry puffery about how we're reaching more people than ever. Frequency and time spent are the important metrics.
And the reality is dismal.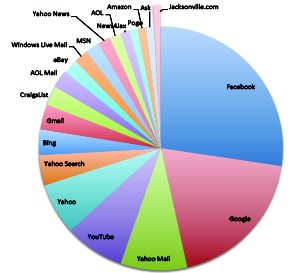 In a pie chart of "where do people spend their time online," newspaper websites are nearly impossible to find.
People aren't going online to read newspapers -- or even news, from any source. They're going online to talk. To find. To discover. We're way behind Facebook, Google, Yahoo Mail, Youtube, Yahoo, Yahoo Search, Bing, Gmail, Craigslist, AOL Mail, Ebay, Windows Live, MSN ... and that's before figuring in the effect of Pinterest, the latest love of crafty women everywhere.
We don't have to "beat" the big national brands. But if we're going to survive as a business, we have to carve out a much bigger slice of the pie than we've managed to date. And to do that, we need a relentless focus on discovering and meeting local information needs.
News is part of that, of course, but it's news in that reborn participatory audience context, news that is timely, news that is personal, news that is interesting, news that is shared and spread socially, news that we get in our pockets as well as on our tablets and computers, news that is in text and photos and videos and yes, still in print.
But news is not enough.
We should be offering a toolkit for effective local living in this century, and most information needs are not related to the news, at least not as traditionally defined. We need jobs. We need to spend our money wisely (for those of you who outsource this function to other family members, it's called shopping). We want to be entertained.
As practical tools and as entertainment, "online newspapers" are close to useless. That can not be allowed to continue.
We don't have to do any of this. We could just fade into being nothing more than a sales agency for geotargeted digital advertising delivered across national networks. But that would be a sad outcome, not just for us, but for the communities that we have declared are our responsibilities.
We have chosen the path: "To become and remain the dominant convener and server of community audiences."
So the charge for this new-age audience chief is a daunting one: marshal all of our resources effectively to best serve all the local information needs of this participatory audience. It's an exciting one. We live in interesting times.