Submitted by yelvington on January 27, 2010 - 2:15pm
The new Augusta Chronicle website is now live, the latest in a series of conversions of Morris websites to a Drupal-based system.
Before and after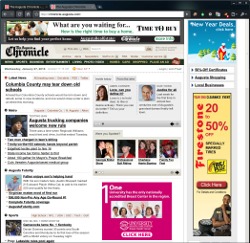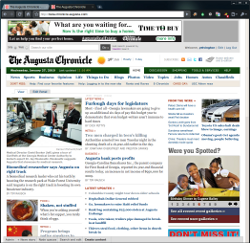 As I mentioned last week, there's a companion mobile-optimized site for smartphones, and if the browser detection is working properly, you'll go to http://m.chronicle.augusta.com/latest-news/2010-01-27/apple-introduces-s... automatically if you request http://chronicle.augusta.com/latest-news/2010-01-27/apple-introduces-sin... with a Blackberry, iPhone, Droid, et cetera.
But it's not just about technology. The reason we're moving to Drupal is to create an interactive environment where members of the community and everyone in the newsroom can engage in a broad civic (and, we hope, civil) conversation and contribute content in appropriate ways. In the old world, the Web was a specialty and most reporters and editors had limited access to the tools; in the new world, any staffer and any member of the community can post directly into the system with appropriate access controls.
I've written previously about the importance of context in evolving a journalism that conveys meaning to time-pressed citizens. One of the tools we'll be using for that is topics pages that frankly are modeled on those of the New York Times: a synoptic overview of the topic, links to incremental news coverage of the topic, and links to related Web resources. In an early brainstorming meeting with the Chronicle's newsroom, an entire wall was quickly covered with ideas for topics trackers. The Godfather of Soul is a well-executed example.
The Chronicle has one of the more active commenting communities among local newspapers I see. It's not always a pretty sight, but executive editor Alan English @aenglish09 has declared that comments will be "assertively moderated."
As with previous rollouts of the Morris Site Management System, this one comes with user profile pages
Major Drupal modules used in this project are predictable: CCK, Views, Panels, Imagecache, and so forth, plus a few that are new to us, including Context. We've written a few as well that may find their way into the Drupal contrib collection.