Submitted by yelvington on October 21, 2009 - 8:55am
I have seen the future, or more precisely, little pieces of the future protruding into the present.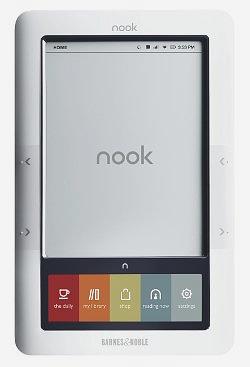 Barnes &Nobel has unwrapped its e-reader, dubbed "Nook," which is intentionally crippled by its corporate masters. But it won't stay that way.
Here's how it's crippled: There's no Web browser. I get it. The Nook connects to download books and periodicals from B&N's online store through AT&T's 3G digital wireless phone network. The cost of that service is included in the purchase price (and in B&N's bookselling business model).
AT&T is already hurting from high 3G usage by iPhone users. And B&N wants you to buy pay books, not read BoingBoing.
At any rate, no Web browser means no Web browsing. It also means you can't use the built-in Wifi alternative from your hotel or airport lounge, because you need a Web browser to authenticate.
Crippled. But this will not last. I expect to see a Wifi-only Web browser on this device before long, and if B&N doesn't do it, somebody will jailbreak it.
The Nook is based on free, open software: Linux with Google's Android user interface. Regardless of what AT&T and B&N might wish, within five years you're going to see Chinese factories flooding the marketplace with open, Web-friendly, Android-powered devices that look pretty much like this and connect through any Wi-Fi hub. There's already an iRex device headed for your local Best Buy.
Technology wants to be used. E.Ink, which owns the high-resolution/low-power display technology, stands to make a whole lot more money from hundreds of millions of open e-readers than from tens of thousands of closed e-readers. Factories want to build and ship products. People want to do things, not just read.
At this point, devices like the Nook and the Kindle are slow and therefore best used as readers of fairly static content. A PDF-like periodical is more at home on these devices than a Web page with 187 embedded images, Flash movies, CSS and Javascript files. This will change, too; the ARM chip will continue to improve and the displays will get faster and connectivity will be ubiquitous.
So the Nook shows us a glimpse of the future, but it is not the future. We will see cheap, fast, reliable, easy-to-use and most especially open tablets hanging from blister packs at Target stores. That's the future, and it's only a matter of time.