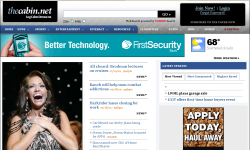 After more delays than I liked, we're rolling out -- in beta form -- the Drupal 6 version of our news site management system this week at the Log Cabin Democrat in Conway, Ark.
Our experiences with Jacksonville.com and CJOnline.com, which both were built on a Drupal 5 base, persuaded us to rebuild everything from scratch in an attempt to "get it right" before rolling the system out to 11 more daily newspapers.
The part you can see is an easily skinnable, mutable design. The Panels 3 layout module lets the presentation vary quite a bit from site to site, page to page, and even minute by minute if the news requires it. Structural details and ad geometries are standardized, supporting network sales, but sites don't have to look alike.
Colors and logos are applied in a single large sprite that you can see here:
http://beta.thecabin.net/sites/all/themes/thecabin/images/wl-sprite.gif
CSS is used to clip and position components where they belong. The use of a single large graphic cuts total page size and eliminates many HTTP round-trips to the server, improving page rendering performance.
Under the hood, Views are heavily recycled. At the top of the page, a single View is used four times with different arguments (limits and offsets), and different styles: Big picture, big head + summary, three medium headlines with optional thumbnail images, 10 bullet headlines.
The ability to select a prebuilt style with Views 3 means it's easy to create a new page component, drawing from the database, without ever writing a single line of SQL or touching a PHP template.
When I get a chance, I'll do a writeup for the Newspapers on Drupal group, illustrated with some screenshots, explaining how all this is done.
Later this week I'll be heading down to SavannahNow.com to show the folks there how all this hangs together. Their site has been running for a long time on a very old Drupal version with none of these new features, and it's next up on our transformation agenda.