Submitted by yelvington on August 20, 2008 - 9:48pm
One of the Web developers at work made the mistake the other day of asking how old I am, which led me to say I'm old enough to have worked in a world where newspapers set type with molten lead. Giant cauldrons of molten lead!
Tonight I ran across this wonderfully detailed image of a Mergenthaler Linotype, circa 1965, on Wikipedia (copyright Deutschen Museum, Munich):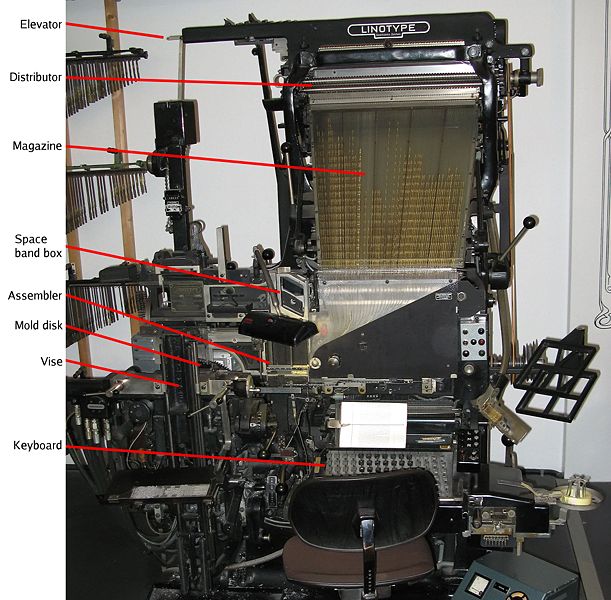 To see one of these in action is to witness a marvel of engineering, from the point of view of a century ago.
From the point of view of a little kid walking through the composing room of the East St. Louis Journal in the 1960s, it was terrifying. If you look closely (click through to the full image), there's a device over on the right side of the keyboard that reads punched tape.
Ever wonder where computers got ASCII code? Eight-bit character sets are just an extension of the six-bit data on that paper tape, which drove an automated keyboard.
The Linotype's keys clattered up and down as if operated by invisible hands. The printers told me the machine was haunted.
But the real scary part was the long arm, marked "elevator" in the diagram, which dipped down to grab, lift and recycle the brass matrices after a line had been cast. Whole rows of these things were operating at once, with giant arms reaching out, grabbing....
Terrifying!
These machines, along with the rotary press, enabled the creation of mass-circulation newspapers and thereby shaped modern journalism.
If you look very closely, over on the left side, toward the bottom, there's what looks like a silver bar. That's a galley of type, freshly molded lines of lead. Running flat-out full-speed, that machine might set 15 lines of type in a minute.
That was the awesome publishing technology of the newspaper era. Think about that when you plug into your 2-megabit cable modem.