Submitted by yelvington on January 7, 2009 - 1:08pm
I know I'm repeating myself, but it bears repeating: The Internet isn't killing newspapers.
The Internet didn't create the conditions that left the Lee Enterprises, the Tribune Company, Journal Register, Gatehouse Media, the Star Tribune and a dozen others hanging off a cliff, dangling from a tree root.
By far and away, it's the economy, the economy, and also the economy, combined with some badly timed financial bets. And the economy is cyclical.
But that doesn't mean print is coming back. Happy days will not be here again. Because as the economic cycle knocks down the newspaper, secular change rushes in to the empty seat at the table. Secular change includes the effects of the Internet, but also market fragmentation, restructuring of the retail landscape, and other changes.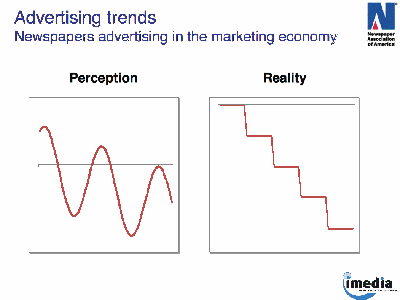 Whether newspapers participate in the coming economic recovery will depend on how well they focus on new products, especially digital, and whether they take off the blinders and discover the breadth of the playing field.
The scale of the opportunity is stunning.
A new report from Jim Chisholm of iMedia and Randy Bennett of the Newspaper Association of America has a compelling data point: Newspapers, which are accustomed to thinking of themselves as the dominant player in local markets, currently attract only 9 percent of all marketing expenditures. Unless my grade-school arithmetic fails me, that means 91 percent of the money is going somewhere else. Marketing expenditures have been growing in new directions, and newspapers have not been along for the ride.
But money being spent elsewhere also can be seen as opportunity for growth.
To pursue that opportunity, we have to stop limiting ourselves to advertising -- including search and behavioral targeting, which are the celebrated Internet growth points. There's also telesales, direct mail, catalogs, couponing, in-store media, custom publishing and event marketing. Many of these may fit reasonably well with current newspaper competencies and assets.
We're in a crisis. A crisis is a terrible thing to waste. Let's use this one to refocus -- not on rowing harder in the old direction, but to explore new ones.