News alerts, headline pushes, weekly digests, Daily Deals ... most of us running news organizations use email marketing to get the word out and drive website traffic. It's cheap, it's easy, and it addresses the Web's greatest weakness -- that it's a pull medium, not a push-delivery medium.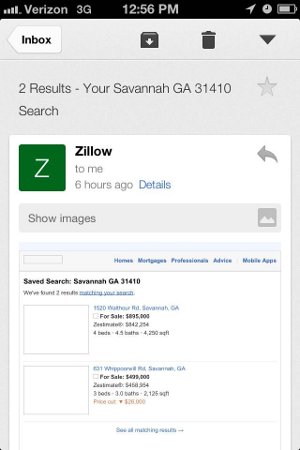 But the world has changed. Email isn't something you read just on your computer. Mobile is overtaking the desktop, and depending on your definition of mobile and the technology you use to measure, some studies say as much as 70 percent of email marketing messages are being read on smartphones and tablets.
All such statistics are inherently imprecise. We can't really measure this, and the statistics from your email push provider are not very trustworthy. "Opened" data comes from the delivery of embedded images. Some email programs prefetch images for items that aren't really being read (false positives) and others fetch no images at all by default (false negatives).
But there is ample indication that human behavior has shifted in a very important way.
So what do your emails look like on a smartphone? A tablet? When did you last check?
I get email notifications from a lot of services, and it's amazing how poorly some of them render on mobile devices. Take the Zillow example shown here. Zillow gets a lot of things right, but this email, when displayed using Gmail on an iPhone, is very nearly unreadable. No amount of "Retina display" is going to fix that, and the links are too small to hit with a finger. And this is by far not the worst example.
In Savannah, we're going through all of our email-generating systems and templates and replacing old desktop-centric designs with new ones that work for mobile users. It's time.