Sometimes when I talk with newspaper people about the value of incorporating social networking tools and techniques into their websites, I get the counterargument: Haven't Facebook and Myspace already won that battle?
Today while looking for a screenshot to use in a presentation, I had a devil of a time finding the Augusta, Ga., regional page on Facebook -- even though I'm a member of that network.
Out of desperation I finally played "guess the URL" and managed to find this: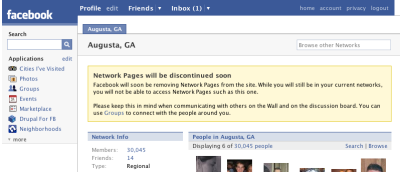 The box at the top says: "Facebook will soon be removing Network Pages from ths site. While you will still be in your current networks, you will not be able to access Network Pages such as this one. ... You can use Groups to connect with the people around you."
These networks -- based first on college/university affiliation, then on regional geography -- have been foundational for Facebook, and this seems like a huge shift, abandoning "people physically near you" as a central discovery model.
Groups might sound like an OK replacement for networks, but they draw no distinction between "where you live" and "people who hate Joe Baloney." Go group-hunting sometime. You'll drown in it.
For those of us operating in the local media space, this may be a small bit of a good news. While local life may be a niche, it's a pretty big and powerful niche just begging to be developed.