Submitted by yelvington on March 7, 2013 - 11:10am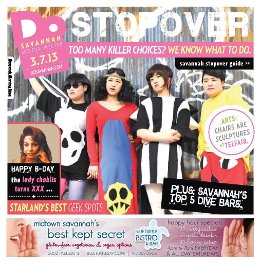 Continuing the "free AND paid" theme: Do Savannah, our weekly arts and entertainment section, just had a do-over. Effective today it's redesigned and expanded to 40 pages of expert coverage of arts, music, community, movies and food.
Print distribution continues to include all of the Savannah Morning News circulation, but we're adding more than 80 locations where you can pick up a free copy. We're also reworking the website and preparing a Do-specific mobile app, with more to come.
This "free AND paid" blended strategy targets Savannah's vibrant "creative coast" segment.
Most outsiders think of Savannah in terms of history and tourism, but it's much more than that. In about 35 years, Savannah College of Art and Design has helped transform Savannah's downtown area from a collection of vacant homes and dilapidated office buildings into a vibrant creative community centered around the world's largest arts school. It's not just art studios, it's film production, architecture, industrial design and other services.
There's a lot going on. In this month alone we'll have two huge music festivals (one the largest in Georgia) with hundreds of performances and the second-largest St. Patrick's Day parade in the world. And in case it all seems like too much booze and music, I should point out that last month's Savannah Book Festival featured more than 40 authors from James Patterson and Robert K. Massie to Al Gore. Savannah is a smart place to be.