Submitted by yelvington on January 26, 2009 - 5:34pm
Here's an image I've been using a lot lately, both for internal training and external presentations such as last week's BPB Forum Lokaljournalismus in Schwerin, Germany.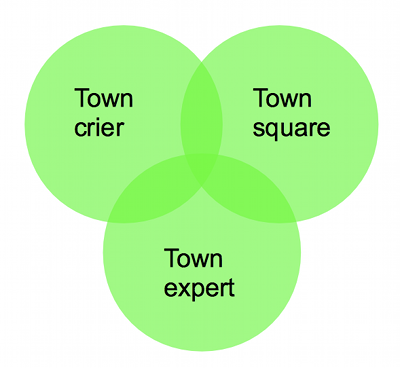 Journalists tend to gravitate to only one of these roles: the town crier, the quaint colonial-era village character who walks around ringing a bell telling you what's happening. It comes naturally.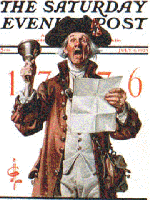 This is why 24x7 coverage teams and the "continuous news desk" concept take root so quickly when newsrooms suddenly awaken to the urgency of taking the Internet seriously.
But the other roles aren't secondary. They're coequal, and they're grossly neglected by most local news websites.
Moreover, they consistently surface in qualitative research as poorly met needs. The language people use is a little different, but recognizable: "Help me connect with people." "Help me get answers I need." "Help me find people like me." "Help me pursue my interests."
The guys from Harvard will tell you that a poorly met need is a business opportunity -- but you shouldn't need an MBA from HBS to tell you that.
It's easy to point the finger at the "business side" and say they're responsible for the revenue, and they're just not selling enough advertising to support our really great content.
The inconvenient truth is that the content isn't all that great, as judged by the marketplace.
Actual usage data from U.S. newspaper websites consistently demonstrates great reach (monthly cumulative unique-user count) and terrible frequency. There is an audience segment that uses local online news very heavily -- 30, 40, 100 times a month or more. But it's small, too small to sustain the World Of Journalism As We Know It.
News is not enough. Doing the same thing better and faster is not enough. It's time to look left and right at what's not being done.
What does a town square look like? Forums, blogs and photo sharing are obvious tools, and many newspapers have finally -- after years of active resistance -- grown comfortable with the idea of hosting them, if not adept at cultivating them.
But who in mainstream media has done as good a job of aggregating local voices as Chicago's Windy Citizen or Boston's Universal Hub?
And why not? It's not a matter of technology (both those sites use free, open-source tools) but rather of recognizing the value created by sending people away. What's the Number One website, the most powerful brand on the Internet? Google. What does it do? It sends people away. What do they do? They come back for more.
The third role, the "town expert" role, is where we all fail.
We even fail at being the town expert in the territory where we might claim to excel, the town crier function. (Note that I have drawn overlapping circles.) Show me one single local newspaper site, just one, that has done a great job of building topics pages. Yahoo has topics pages. Cnet has topics pages. Newspaper sites? They have stories. Incremental stories that beg to be placed in context.
But topics pages aren't the only model. What about Wikipedia? AmplifySD tried the wiki model for music, and of course the San Diego Union Tribune rewarded the experimenters by abolishing the online department and throwing its leaders overboard.
The brighter spots are outside the mainstream news industry, projects like EveryBlock and Repsheet.
Don't forget that the town expert overlaps with the town square. The informal community conversation has long been a primary source of answers. Who can I trust to work on my car? What about that new hair salon? Where can I leave my pet while I'm gone for the weekend?
Back in the days of dialup online services like CompuServe and The Source, where time really was money ($6 to $12 an hour), those services built a business around forums that provided answers to questions. They were called SIGS -- special interest groups -- and while there certainly was some idle chatter, when the meter was running the bulk of the conversation was direct and practical.
Too few people now working in online media enjoyed that experience. If they had, they might understand forums and comments as being sources of something other than pageviews and headaches.
Technology is not the problem. It rarely is. The deficit isn't in a lack of tools, or a lack of vendors. It's in a lack of vision coupled with execution. If you see your role only as it relates to the town crier function, then you're going to pour all your energies into storytelling techniques, flash, video and mojo dojo.
Those are not bad things. But they will not fix the frequency problem, and they will leave the community with poorly met needs. Don't complain if someone else steps in with a solution.