Submitted by yelvington on December 4, 2008 - 10:21am
When I mentioned the other day that our site management system has more than 30 content types, you might have reacted in one of two ways:
1. Why on earth so many content types?
2. What's a content type?
Let's take the second question first, for clarity's sake.
In the beginning of the Web, there was only one content type, and it was the document. Typically coded by hand, it was without predictable form and structure. You can't build and maintain big websites with hand-tooled HTML, so very quickly we moved to publishing tools. These tools combined content with standard layouts (templates).
If you've posted anything on a blog, you've done something like this: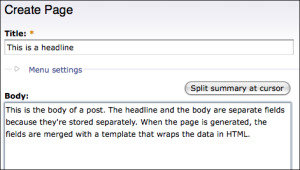 Blog posts represent a very simple content type. Other purposes require more complex structures -- additional fields -- and different templates for displaying the result.
Drupal has something called the Content Construction Kit. It's actually a family consisting of a little core functionality and quite a few contributed modules that let you create new content types and add all sorts of interesting fields such as validated date fields, embedded media objects, et cetera.
OK, so the technology supports multiple content types. Back to the first question: Why on earth so many content types?
It's easy to see good reasons for news items to be structurally more complex than a simple blog post.
But we also have some types of content you probably wouldn't think about at first.
Wire stories are an interesting case. We're not loading an AP Online feed into Drupal. We already have a system in place to support AP, and it's not so broken that it needs fixing. But we do need to manage and display AP components in the Drupal environment. So we have Drupal's FeedAPI RSS aggregator pulling in headlines and summaries. If you click on an AP headline in Drupal, you're sent directly to the AP server. This required a special content type and a bit of template work.
Promos are another. Every news site manager struggles with competing demands for promotional slots on the homepage for special projects and services, advertising sections, contests, et cetera. So we created a special content type to manage that problem. We made it simple to attach an image that is automatically resized. All the promos go into a library, so they can be temporarily removed and reused later. On Jacksonville.com the promos are displayed in a Javascript-driven carousel throughout the site.
Other content includes special types for various video players, feeds from other technology and content partners, items aggregated from websites in the community, podcasts, cartoons, Soundslides shows, and Tweets. We pull in Twitter postings from @jaxdotcom.
Drupal also creates content types for internal purposes, such as representing user groups, webforms, etc.
Now, what about that editorial content type makes it so special? I'll go into that in my next post in this series.