Submitted by yelvington on October 9, 2008 - 11:08am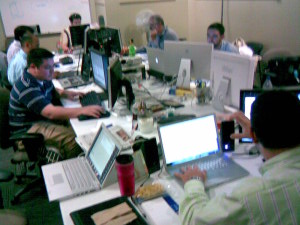 This week I'm in Jacksonville, Fla., where a team (right) is hard at work rebuilding Jacksonville.com on our new Drupal-based site management system. There are others up in Augusta and other locations, working as part of a larger virtual team, but even with instant messaging and regular conference calls there's no substitute for shoving a bunch of folks into one room with a sack full of junk food and not letting them out.
The Florida Times-Union's site will be the first on the new platform, followed by the Topeka Capital-Journal and the Conway (Ark.) Log Cabin Democrat. Launch has been pushed back a couple of weeks because of the elections -- we have high confidence in the hardware and software, but people will be stressed out enough without the added complexity of new tools on Nov. 4.
We're relying heavily on some Drupal contributed modules, especially Views (which lets you query the database and create various types of lists without writing SQL), the Content Construction Kit (arbitrarily structured special content types), FeedAPI (RSS and Atom acquisition), and Panels (arbitrary custom page layouts).
The result should be a system that lets reporters report, writers write, and editors edit without having to know anything about HTML, scripting, FTP and other online technobabble. Nevertheless, there are going to be some interesting training challenges as we move from a world in which the Web was the exclusive concern of a small team of specialists, to a world in which every member of the news organization can directly play an appropriate role in Web operations.