Here's a little change we're rolling out on our Morris newspaper websites this month:

The most difficult challenge faced by news sites on the Web is poor habituation. Many newspaper people are blind to this phenomenon. If you don't see it in your stats, quit looking at pageview numbers. Ask your traffic analyst to provide frequency of use numbers. Better yet, analyze your traffic on the basis of behavioral cohorts: People who visit occasionally (less than five times a month), people who visit 6-10 times, 11-15, et cetera. What you discover may leave you dismayed.
In the home-delivery U.S. newspaper model, print has an advantage: It piles up on your doorstep if you ignore it, so you have an incentive to pick it up and read. The Web doesn't work that way. You can ignore anything and everything. If you lose track of what's happening in local news, you may drift away and not come back.
What we're trying to do here is add one more way to prompt returns. It's not a magic bullet and it's limited to (a) power users who (b) have high civic engagement. But even those folks can drift away.
Here's how it works. When you click the "Follow this article" button, you're offered a choice. You can get updates to the article itself (typically during the day). You also can get notices of articles about people and institutions mentioned in the story.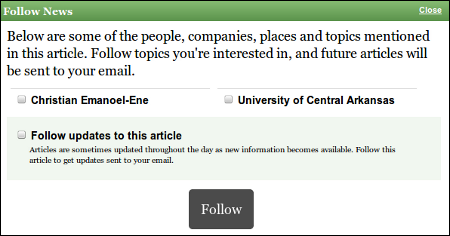 Notices are sent via email. 
Making all of this possible is a Web service from ThompsonReuters, a bundle of open-source technology, some custom code, and an email delivery vendor that will give us some usage metrics.
The Web service is Calais, which "automatically creates rich semantic metadata ... using natural language processing (NLP), machine learning and other methods." In plain English, it reads the text and identifies entities such as people, places, things, key concepts, et cetera. We're only using a small subset of that data for a couple of reasons. One is that machine intelligence makes a lot of mistakes, and we're concentrating on the parts of the task that it does best (Calais is very good at identifying people). The other is that when it comes to a user interface, less is better than more.
The open-source code is Drupal's Calais module (which integrates Calais with Drupal), the Notifications framework (which supports subscriptions) and the Messaging framework (which handles delivery). These systems are pluggable, so theoretically it's possible to deliver your notices through Twitter, SMS, or many other methods. We wrote a plug-in for Contactology so that we can monitor opening rates, clickthrough, et cetera.
Keith Smiley, a University of Kentucky alum with degrees in both journalism and computer science, did a great job of integrating and -- most importantly -- simplifying it.  The Drupal way of doing things is to create general tools that make all things possible, and that can lead to a dizzying case of cognitive overload. Keith whittled it all down to something that real people can use.
This is not a new idea. Google lets you subscribe to search terms, of course, but they're latecomers to the party. Knight Ridder was doing this back in the 1990s -- in fact, KR's NewsHound, which began on AOL, was named Best Original Feature for an online newspaper (Mercury Center) in 1996 by Editor & Publisher Magazine. Like many early accomplishments of the newspaper industry, it's been abandoned; McClatchy owns the domain, but it's gathering dust as a Sedo parking lot.
What was difficult, daring and expensive in 1994 is now easy and cheap. The toughest part of this project isn't building it. It's communicating, explaining, selling the concept. Our users are visually fatigued from being bombarded with popup, scroll-down, slide-across and other intrusive advertising, from buttons and links to like/friend/tweet/buzz/email/print this, from click-heres and mouseover-theres. Our quiet, well-behaved little "follow this article" button faces difficult competition.