Submitted by yelvington on October 7, 2010 - 9:39pm
For some time I've been convinced they're coming: tablets and netbooks in the $100 range.
Not quite. But I finally got tired of waiting and ordered a $150 Android tablet direct from Guangdong: the iMito iM7. At 7 inches, it's exactly half the size of an iPad and, coincidentally, almost exactly the size of a 15-year-old Apple Newton MessagePad (pictured here).
Here's a preliminary review and account of my experience so far.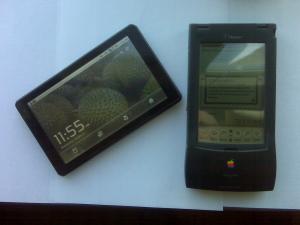 The source: LightInTheBox.com, which appears to be a global drop-shipper of various Chinese products ranging from bridesmaid's dresses to plastic dog poop, with some tech toys thrown in the mix. They have a very slick website and seem to be a respectable company, with prices only slightly higher than you can find on some less substantial-looking Chinese sites.  
I placed my order Monday, Sept. 27 and paid $151.99 for the tablet, $26.15 for "expedited" shipping and $1.99 for insurance, for a total of $180.13 via PayPal.
"Expedited" means after it's shipped; the order languished for a couple of days before a Shenzhen warehouse identified as "sunyogbo" gave it to DHL air express. I was able to track its weekend journey from Shenzhen to Hong Kong to Cincinnati to Atlanta. It arrived at my house the following Monday. I wasn't home, so it had to be redelivered Tuesday.
I posted photos of the unboxing ritual to my Flickr account.
In the shipping box I found a product box branded "Konseptus model K02 mini pc" and a U.S. plug adaptor. Apparently Konseptus is a Turkish importer's brand and these tablets get repackaged in many forms. There's no branding on the actual tablet and the splash screen announces it as an iMito iM7.
The iMito apparently began life as a Windows CE tablet around last March -- a doomed software platform wanted by pretty much nobody. Some WinCE versions are still available on the market under various brands. Android entered the picture later in the year.
Most of the currently available Chinese tablets are running Android 1.6 or even 1.5. On the iMito, Android 2.1-update1 (Eclair) is installed, running on a Linux 2.6.29 kernel. This brings most of the functionality benefits of a current release level but not Froyo's performance gains.  There's no place to download updates and Cyanogen doesn't support this odd Chinese hardware, so it's stuck at 2.1 for the foreseeable future.
The one-page "manual" claims it comes with office software, but none was included. However, it did include the Android Market software -- apparently banned for non-phone devices in the United States (I blame Google's sale of its soul to the devils at Verizon). This is important because, although there are some alternative Android marketplaces and rumors that Amazon will start one, Google's collection is the only one that really matters at this point.
I made quick use of the Market to install some free programs, including Kindle, which works fine, a better Wifi scanner and a couple of filesystem browsers.
The hardware is a mixed bag of good and not so good:
CPU: 700 mHz Telechips 8902. This is a moderately fast ARM-11 with a bunch of video extensions including built-in codecs. It's not as fast as the ARM Cortex derivative in the iPad, but then we're talking$150 here, not $500-$800.
RAM: 256MB -- the specs claim the system can accommodate twice that but there's no apparent way to expand it.
Storage: 2MB with most of that taken up by the operating system. There's a MicroSD slot, where I stuck an 8-gig flash card before installing any software.
Screen: 800x600, 7 inches diagonal, bright and readable. 
Accelerometer: Automatically switches between portrait and landscape mode, depending on how you hold it. 
Where things start falling apart:
Touch technology: Resistive touchscreen that's less sensitive than the Nokia I bought over three years ago. Some operations, including typing and even simple scrolling, can be maddening. There's a stylus (how very 1999) but it doesn't really help. The predictive spelling system made it even worse, changing words to all sorts of odd references apparently grabbed from my Google contacts. I turned it off. 
I expected the touchscreen problem, as it's commonly reported across all the cheap Chinese tablets. I wouldn't recommend them for general consumer use until capacitive screens are common. 
There's no multitouch. 
Webcam: Bug: It occasionally captures stills with bizarre video artifacts. User-facing, it's not convenient for photography. I guess you could make silent films of yourself.
No microphone: Seriously. There's a little hole in the front for a microphone, but there's no mike. WTF? A webcam and no microphone? I've used my Nokia N800 for calling home via Skype from Belgium, Spain, Germany, India and China. Without a microphone, I'll never do the same with the iMito.
No Bluetooth: I can't use my Blackberry for 3G Internet access, as I can with my Linux laptop.
No GPS: You won't be using this to drive around. But once you're connected to a wifi network, Google's spooky-good Wifi location database takes over and does a pretty good job of pinpointing your location. My house is dead-on. This works with Google Maps as well as the Web browser.
USB: The "OTG" hub is supposed to work either as a master or as a slave. It works fine as a slave, but doesn't seem to do anything as a master, using the provided cable.
Power supply: It came with a European power plug -- two round pins -- and, in the shipping box, a clunky adaptor for the two-blade standard used in the United States (and, strangely, in China). This works but it's ridiculously clumsy. I probably have an old Nokia power supply in a shoebox somewhere that will substitute once I find it.
I have no idea whether the micro-HDMI port works, as I don't have a cable to plug it into the TV.
Performance overfall seems to be a split verdict -- some things are noticeably faster than my old Nokia, which had about half the horsepower, but not everything.
My Nokia ran native code (Gnome-based HIldon interface, implemented in C on top of Linux) while Android runs a Java-like virtual machine on top of the native system. Some core components bypass that layer, and I suspect the Web browser is one of those components.
The Android YouTube application plays very nice quality video (native, not Flash), but half the videos I played halted after a minute or two and reported "unable to play."
I can't tell if this is a software error or just poor handling of my crappy Knology cable modem's habit of taking a nap for 30 seconds every five minutes. When I watch Hulu on my laptop, the Flash player buffers a huge quantity of data, avoiding most of the stupid network tricks.
The 7-inch screen size at 800 pixels of resolution is small enough that apps designed for phones don't look bad at all. Websites that detect browsers automatically switch you to the mobile version. If you use a regular website, it' likely that the page is designed for a 1040-pixel display, so the browser shrinks it to fit. This works fine in landscape mode. In portrait display, the page is not eye-friendly.
I installed a little app I created with Appcelerator Titanium. You don't have to jailbreak an Android device to install your own applications.
This is a tablet, not a phone. Android is really designed for a phone, so you'll run across some orphaned phone references in the user interface (the nonexistent cellular carrier is identified as "El Telco Loco." ) You may within the next year see really nice Android tablets for $150 that come with a 3G service contract. Do the math before you decide they're a bargain.